Equipment features
On-site module grounding
Decide on site whether it is desirable or necessary to ground modules. Insert fuse and enable software - ready for grounding..
Indoor and outdoor use
All Fronius IG Plus devices have a rugged, elegant metal housing. They are UV-resistant and have corrosion protection, making them suitable for use both indoors and outdoors.
Integrated DC disconnector

No additional installation work or cabling is necessary. Extremely convenient and highest levels of safety according to DIN-VDE 0100-712.
Integrated string fuses
Up to 6 strings can be directly connected to all Fronius IG Plus inverters. The integrated holders for string fuses allow the module strings to be disconnected from one another depending on the module manufacturer's requirements.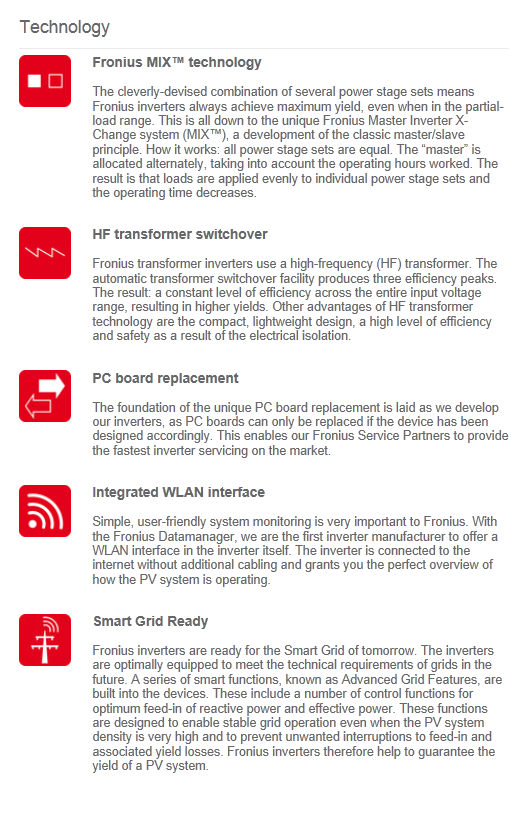 About Fronius International GmbH
We have been closely involved with solar electronics since 1992. Our aim is to revolutionise the energy supply of our planet to achieve energy self-sufficiency.
The highest possible level of quality is at the forefront of all our activities. This is demonstrated not only by our powerful, grid-connected inverters, but also by our comprehensive range of system monitoring products.
However, energy self-sufficiency requires more than temporarily available photovoltaic electricity, which is why Fronius has already spent many years researching into efficient ways of storing solar power. Our development of the Fronius Energy Cell represents a milestone for this sector. The objective is to store excess PV current in the form of hydrogen and to release it again as electricity when required.
The high quality of Fronius is not only apparent from our products: our technical support and unmatched Fronius Service Partner Programme are unique selling points and an important part of our philosophy.
Whenever it starts to develop a new product, Fronius critically examines the prevailing technology on the market and comes up with innovative ideas and new solutions. Solutions that we use in Solar Electronics every day in shifting the limits.

History
For over 60 years the name Fronius has stood for intensive research and the constant search for new, innovative solutions. The perfect efficiency of every product has repeatedly been awarded both national and international prizes.