Zonergy successfully signed a contract with the project management unit of the Ministry of Energy of the Punjab Provincial Government of Pakistan to participate in the construction of the "UJAALA" school photovoltaic power generation project in Punjab. The project covers 2,228 schools in Punjab Province, to ensure the normal teaching activities of the schools, and to bring clean and green electricity to the schools. Zonergy executive deputy general manager Qiu Changbin and deputy general manager Xu Hongchang video witnessed the signing and gave a speech. Zonergy first marketing department deputy general manager Ma Zuoteng, "UJAALA" project director Arif mansoor kayserani and others signed the contract on behalf of both parties.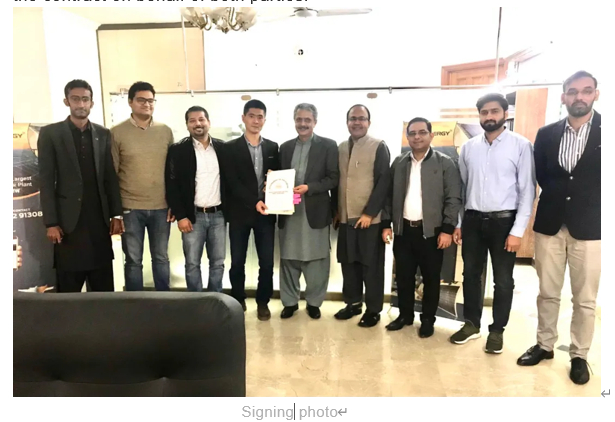 "UJAALA" is Urdu, meaning to illuminate a place. The "UJAALA" school solar energy storage and power generation project is committed to providing electricity to local poor schools, using the rich local solar energy resources to meet the school's lighting needs and the normal operation of teaching facilities, and strive to create a good learning environment for local students. The total installed capacity of the entire project is 3.88MW, and the construction period is 8 months. Once completed, it will become another iconic project of Zonergy in Pakistan.
Under the leadership of Zonergy executive director and general manager Guo Jun, the company takes root in Pakistan. While promoting the development of the local green economy, it focuses on friendly coexistence with the local government and residents, is committed to public welfare, and invests in the construction of drinking water purification in areas lacking water resources. Stations provide free photovoltaic energy storage power supply systems for hospitals and schools to solve the problem that some medical equipment cannot be used safely and school teaching cannot be performed normally due to frequent power outages, which has been recognized and praised by local governments and local residents.
Zonergy will continue to deepen the power market in Pakistan, use clean power to help local economic transformation and social development, and use practical actions to implement the leap from "hard connectivity" to "heart connectivity".