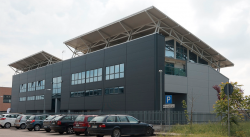 Test Energia distributes several brands of PV panels and Inverters for your systems.
Roof anchoring structures for photovoltaic panels: profiles, brackets, clamps, hammers, screws and nuts for your systems
Field panels, switches, arresters, fuses, LV and MV interfaces for PV systems.
Products that offer the possibility to control the optimal production of PV systems.