About OMNIS POWER


Omnis Power is a leading American-qualified PV company and one of the most innovative and dependable global manufacturers of solar product. Omnis Power was founded in 2010, with an annual capacity of 1 GW who has multiple Asian manufacturing facilities and dedicated global sales teams around the globe. Omnis Power offers the best quality, cost-competitive, and durable solar energy solutions (PV solar modules and PV Solar Kits).
As a pioneer in the photovoltaics industry, we are dedicated to providing our partners with dependable and efficient solar modules and solar kits that will stand the test of time and a global leader in the production of photovoltaic products and systems, we provide a comprehensive range of services to meet all of your requirements.
The robotic manufacturing and the full-automated production lines in Omnis Power ensure that the materials from the beginning of the production to the packaging is all observed and checked to reduce error and inadequate products and insure higher quality during production.
Omnis Power actively promotes the innovation and development of the production technology and seek to provide with premium flexible products and clean energy solutions for the costumers.

Products


CORTEX Solar Panels
The Cortex Series Solar Panels, designed with the latest PERC, N-TYPE, BIFACIAL, HALF-CUT, and MULTI-BUSBAR technologies, offers industry-leading conversion efficiency and low degradation rate, with up to 600W+ of power.
The Cortex Series are divided to 3 major Solar Modules series:
1- Single Glass modules
2- Double Glass modules
3- N-Type modules
The Cortex Series is the industry standard due to its superior module efficiency that can reach 21.6% and high-temperature performance, which results in a high-output renewable energy source.
The American-designed and approved Cortex Solar series allows its owners to save money by lowering their electricity costs while also promoting their environmental commitment and increasing their social responsibility.
With an annual degradation of less than 0.4%, most clients achieve a return on investment in less than four years with the Cortex Series, which has an expected lifetime of 30 years and a comprehensive warranty package.
It is the most cost-effective and user-friendly solar-powered PV system available for any application.
POWERCUBE Solar Kits
Our Omnis Solar PV Kits "PowerCube" provide optimal performance at a competitive price due to the dependability of the equipment. Each packaged solar PV system kit is pre-engineered and contains all of the components required to complete a full solar PV installation. And they are available in a wide range of voltages, frequency ranges, and options to meet any requirement, anywhere in the world.
Omnis Power Solar PV Kits will enable individuals and businesses to save money on electricity while also helping to protect the environment and reverse climate change. Users of our "PowerCube" Solar PV Kits can also increase their financial gains by selling excess power generated back to the grid, in addition to the short return on investment of under 4 years in most cases.
Omnis Power "PowerCube" Solar Kits are a simple, easy-to-distribute, and easy-to-install full-package solar energy solution that fits most applications.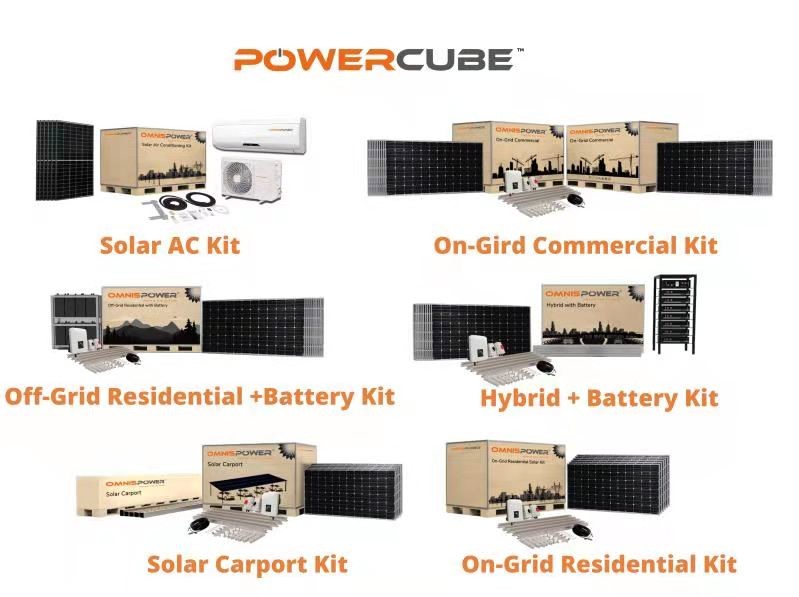 Projects





Certificates