Management Concepts



Grace Solar brought forward the standardized and internationalized management concept at the very beginning of its establishment. It positively introduces the international management systems such as APQP , FMEA , ISO 9001:2015 , CP Control Plan , MSA , SPC and applies them strictly in R&D , manufacturing, marketing, service etc.
Furthermore, Grace Solar strives to acquire international authority certification for the products and actively studies with international and domestic certification institutions such as TUV , CE , CQC , SAA , AS/NZS 1170 and Golden Sun.


Service Networks


Due to long term quick feedbacks for the reliable and qualified products and services, Grace Solar wins trust from system integration companies, installers and distributors worldwide. Cooperating with several strong facilitators in different areas, Grace Solar creates global service networks to offer superior and efficient services.

Research and Development


Grace Solar adheres to the principle that technology is the first productive force and increases investment in R&D and technology. By the end of 2020, the company's R&D center has more than 50 personnel, including 1 registered structural engineer, 2 doctors, 5 masters, 35 undergraduates and 46 personnel with medium and senior titles.
Grace Solar pays attention to the development and cooperation of industry university research integration, and maintains long-term cooperation and technical exchanges with Tongji University, Central Southe University, Xiamen University and other famous colleges. It
uses a "professional" technical team and an "innovative" R&D model to jointly create a series of high-tech products with excellent performance and advanced technology, which are always in the forefront of the industry in terms of structural safety and system performance.


Production Capacity


The manufacturing base is located in Tong'an, Xiamen, with an area of 60,000m², 15 independent R&D and design production lines, 50+ sets of equipment, and a production capacity of 10GW/year. It can deliver industry-leading quality products on time and respond quickly to customer needs.
Marketing Network
Global Brand,Global Service!

GraceSolar Headquater in Xiamen,China,have overseas branches locate in Tokyo, Japan; Bangkok, Thailand; Mexico City; Dubai, United Arab Emirates; Rome, Italy; Sydney, Australia


Products










Case Sharing




Approval and Certificate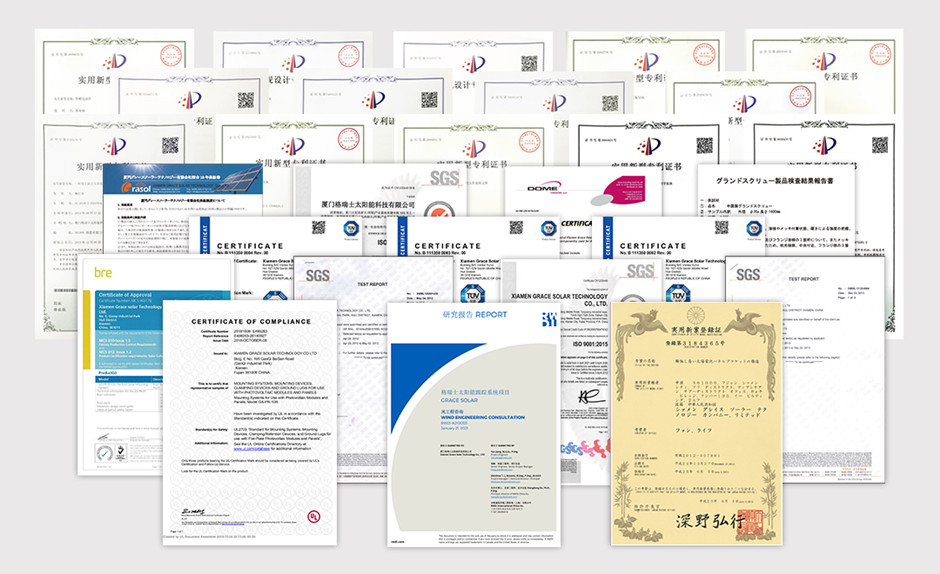 Company Picture