About Sinosoar SP30H
SINOSOAR SP30H Power Conversion System is an on/off-grid bidirectional converter that is specially designed for Mini-grid System. It is used to connect battery and AC power grid and carry out the bidirectional transformation of power according to the scheduling of energy management system or configured parameters.
The AC side of the SP30H Power Conversion System/Hybrid Inverter can be connected to the grid and work independently off the grid. The specially designed strategy makes it easy to work in parallel with the Diesel-Genset.
Compact design for easy installation; Well-designed 30kW model is applicable to various system capacities up to 300kWp.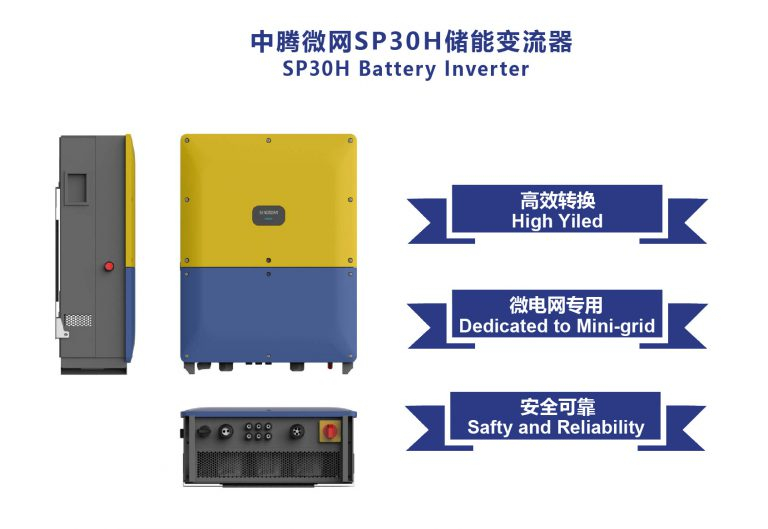 High Light
High Yield
Three-level topology, Max. efficiency up to 97.5%
1.2 overload capacity, No derating up to 50℃
Wide DC input voltage range, Support 100% three-phase imbalance
Dedicated to Mini-grid
On/Off-grid mode, Synchronize with Diesel-Genset
4-wire output, appliable for various loads
Modular extendibility provides up to 10 pcs paralleled connection
Safty and Reliability
Battery charge & discharge management integrated, Maximize battery life
L/HVRT, L/HFRT, soft start/stop
Support fast P/Q control; Adapt to different grid parameters
Plug-in Design
Modular Design
IP65 for reliable operation in all environments
Easy site commissioning; Monitoring via Web/APP