SunEdison, Inc. today announced financial results for the 2015 second quarter.
Quarterly Review:
1. SunEdison Devco: Unmatched Organic Execution
- Record 404 MW delivered Q2 vs. guidance of 300-340 MW; up 186 MW year-over-year
- 1.9 GW of projects under construction, up 1.1 GW quarter-over-quarter
- 8.1 GW Pipeline and 5.6 GW Backlog, 1.0 GW of gross pipeline additions
- 4.2 GW - 4.5 GW 2016 guidance initiated, up 50 percent vs. prior outlook
2. TerraForm Power: Delivering World Class Execution and Growth
- $65 million Q2 cash available for distribution, $0.335 DPS
- $1.35 2015 DPS guidance on track, up 50 percent since IPO
3. Platform Transformation: Largely Complete
- #1 Global Renewable Utility Scale Developer
- DG leadership with Vivint Solar acquisition
- GLBL IPO delivers widest geographic coverage of peers
- SunEdison Semiconductor: remaining shares sold down during the quarter
"During the second quarter, we continued to balance operational execution while meeting our strategic objectives. On the operations front, our leading organic development engine continues to execute as we exceeded our megawatt (MW) and Retained Cash Available for Distribution (CAFD) guidance, delivering 404 MW and $63 million, respectively," said Ahmad Chatila, SunEdison chief executive officer and TerraForm Power chairman. "In addition, TerraForm Power delivered $65 million of CAFD and continues to create value for shareholders with its leading DPS growth. Finally, we have largely completed our platform transformation with the agreement to acquire Vivint Solar, a leader in residential solar, as well as the IPO of our Emerging Markets-focused asset ownership platform, TerraForm Global."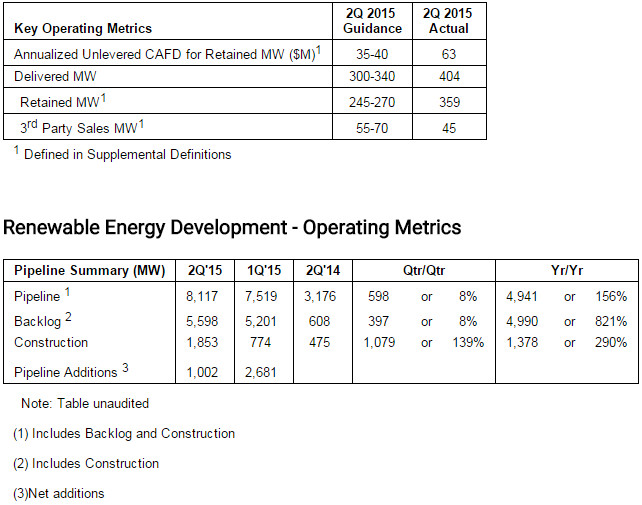 Renewable Energy Development ended the quarter with a project pipeline of 8.1 gigawatt (GW), up 598 MW quarter-over-quarter and 4.9 GW year-over-year. Net additions to pipeline projects were 1.0 GW, and net additions to backlog projects were 801 MW. Under construction projects for the quarter was a record 1.9 GW, up 1.1 GW quarter-over-quarter and 1.4 GW year-over-year.

Renewable Energy Development ended the quarter with leads, qualified leads and pipeline totaling 56.1 GW of opportunities, up 3.4 GW quarter-over-quarter. Based on historical conversion rates, these combined leads, qualified leads, pipeline and backlog are forecasted to convert into 15.7 GW of completed projects and $2.5 billion of Gross Annualized Unlevered CAFD from completed projects.
Discontinued Operations
On July 1, 2015, SunEdison disposed of 10,608,903 ordinary shares of SunEdison Semiconductor Ltd. ("SSL") in connection with an underwritten public offering of 15,935,828 ordinary shares at a price to the public of $18.25 per share. We received net proceeds from the disposal of $186 million. As a result of this transaction, we have effectively liquidated our investment in SSL. The disposal of our controlling interest in SSL completes a strategic shift that has a material effect on our operations and financial results. As a result, our Semiconductor Materials segment is no longer considered a reportable segment and we have reported the historical results of operations and financial position of SSL as discontinued operations in the condensed consolidated financial statements for all periods presented.
TerraForm Power
TerraForm Power reported adjusted revenue of $132 million, adjusted EBITDA of $108 million, and CAFD of $65 million in the second quarter. TerraForm Power today announced that its board of directors declared a second quarter dividend for TerraForm Power's Class A common stock of $0.335 per share, or $1.34 per share on an annualized basis. The cash distribution received by SunEdison on its class B units in TerraForm Power, LLC will be $20 million.
During the second quarter, TerraForm Power acquired 146 MW of contracted solar power plants from SunEdison located in the United States and United Kingdom. All of these power plants were on TerraForm Power's call right list, which is comprised of SunEdison projects which TerraForm Power has the exclusive right to purchase upon completion.
Outlook
The company has provided the following key metrics for the third quarter and full year 2015. The company expects the following, assuming no significant worldwide economic issues or other material events in these periods.