Veeco Instruments Inc. announced financial results for its second fiscal quarter ended June 30, 2015. Results are reported in accordance with U.S. generally accepted accounting principles ("GAAP") and are also reported adjusting for certain items ("Non-GAAP").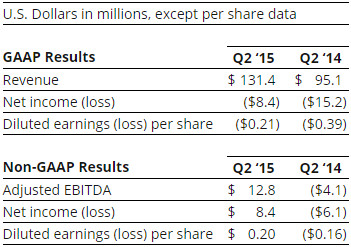 "We delivered solid second quarter results, achieving financial performance in line with our expectations across all P&L guided metrics. Revenue grew by ~38% year-over-year and adjusted EBITDA increased to nearly 10% of revenue. These results illustrate our continued focus on driving growth and operational execution," commented John R. Peeler, Chairman and Chief Executive Officer.
"Our top line growth has been fueled by the rapid adoption of our TurboDisc® EPIKTM700 MOCVD system. This latest generation product offers lower cost of ownership for our customers and improved margin contribution for Veeco, as compared with prior generation tools. We have now successfully demonstrated the tool's capabilities across multiple customers, which enabled us to begin recognizing revenue upon shipment towards the end of the second quarter.
"Our Precision Surface Processing (PSP) business is performing exceptionally well and demand for these products remains healthy. Our differentiated and highly flexible process technology is well established in the broader MEMS market and gaining momentum in the Advanced Packaging space," Mr. Peeler concluded.
Guidance and Outlook
The following guidance is provided for Veeco's third fiscal quarter 2015:
- Revenue is expected to be in the range of $135 million to $160 million
- Adjusted EBITDA is expected to be in the range of $14 million to $24 million
- GAAP earnings (loss) per share are expected to be in the range of ($0.05) to $0.19
- Non-GAAP earnings (loss) per share are expected to be in the range of $0.22 to $0.40