Located in Singapore Industrial Park, Suzhou of China, QC solar is a high-tech company specializing in the research and development of electrical connection and control technology products in new energy industries such as photovoltaic, energy storage, electric vehicles, etc. Recently, the company launched a high current photovoltaic junction box and connector system for ultra-high power 210mm solar panels. The product model is 3Q, and the English homophone is "thank you". which makes up for the technical gap that there is no optional high current junction box and connector on ultra-high power solar modules in China.
210mm size is the latest super power solar panel launched in the photovoltaic industry. The rated current of this product is twice of that of the conventional modules in the past, with an increase of 50% in system voltage and a great improvement on "power density of power generation" per unit area, which is an important development direction of photovoltaic power generation system in the future. Consequently, the product launched by QC solar fully meets the technical and safety requirements of 210mm solar panels.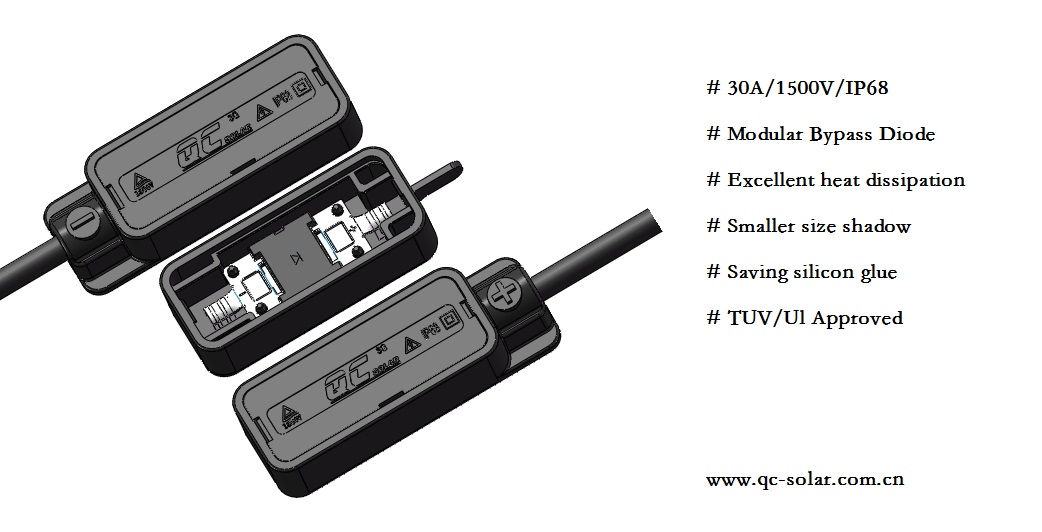 Especially in bypass protection circuit design of junction box , the removable "modular" bypass protection circuit is adopted, which has the characteristics of large over-current (30A) and over-voltage(1500V) capacity, uniform heat dissipation around the device, good outdoor sealing and waterproof effect, smaller size, less occupation of the cell area of the solar panel for power generation , fast and convenient installation as well as saving silicon glue, and has been well acknowledged in the industry as soon as it is launched, which have attracted many large PV enterprises in the photovoltaic industry to establish cooperative purchasing relations with them. This product has created a new record in the field of photovoltaic, and has taken an important step for the development of the global photovoltaic industry.
QC Solar has three manufacturing plants in China and Vietnam countries, and it is the legal witness testing laboratory unit of TUV and UL for PV connecting products in global.