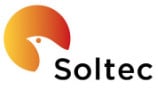 Soltec will supply and install 3,019 units of its SF7 tracker equipment at two PV power plants in Mexico.
The power plants are located in the regions of Guanajuato and Aguascalientes in Mexico, and count on a power capacity of 22MW and 68MW respectively. They are to be installed by the end of 2018.
"These two projects in Latin America build on Soltec's successful track-record there," said Soltec CEO Raúl Morales. "Our solar trackers enable higher yield and greater site-filling options, and reduce material and labor, all combining to achieve the highest grade of customer success."
"Meeting the tight supply deadlines is a challenge that Soltec is prepared for with our warehousing and logistics system Solhub," affirmed Fernando Sánchez, Soltec's VP of Sales LATAM. "Solhub delivers unitized tracker components packaging onsite just-in-time and prepared for minimal additional onsite material handling."