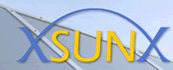 January 16, 2013 - XsunX, Inc. today announced it had begun processing CIS films with its recently completed CIGSolar® TFPV solar cell evaporation system. The Company has been testing and calibrating the deposition source technology in its new evaporation system so that it could transition to processing CIGS films.

"Recently we initiated the last phase necessary for preparing our CIGSolar® TFPV solar cell evaporation system for customer demonstrations with the initiation of CIS (Copper Indium and Selenium) film processing," said Tom Djokovich, CEO of XsunX. "This represents a major step forward and allows us to then transition to CIGS (Copper Indium Gallium and Selenium) films and the completion of the system's readiness for demonstrations," added Mr. Djokovich.

The Company's technology utilizes multi-small area thermal co-evaporation technology to deposit the CIGS solar absorber onto thin stainless steel substrates. The stainless steel substrate can be sized to match silicon solar cells for use as a low cost alternative to silicon solar cells. In addition, the flexible aspect of the stainless steel substrate could also be used in applications where flexibility is required such as building-integrated PV (BIPV) applications.

"There was a lot of buzz over CIGS PV that began to develop in 2009 and grew into 2010," stated Mr. Djokovich. "But with the rapid decline in silicon pricing, many companies focused on producing products to compete with silicon module assemblers have either closed or sold out. XsunX took a different approach with CIGSolar®. Rather than develop a product that attempts to compete with assemblers of silicon solar modules, which is a business path that has seen the demise of numerous thin film companies such as Solyndra, XsunX's CIGSolar® is designed to offer pre-existing silicon module assemblers a lower cost replacement to silicon. Our business objective is to leverage the many GW of existing assembly capacity in the market - not compete with it. Now it appears that the flexibility of our stainless steel substrates may also offer an alternative cell for BIPV assemblers as well. At this time, we are pleased to find interest in our CIGSolar® technology coming from multiple areas in the solar market," concluded Mr. Djokovich.