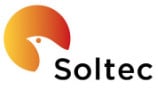 Soltec will supply its SF Utility tracker equipment to the Floresta solar PV power plant in the state of Rio Grande do Norte, Brazil. This 101MW solar plant, located in the municipality of Areia Branca, is being developed by Soltec's customer Solairedirect-ENGIE.
Soltec tracker equipment for Floresta will be supplied locally to meet FINAME local-content conditions.
"As market leaders in Brazil, we are embracing the creation of a strong local supply chain for the solar industry. We rely on local facilities and a strong local team to best assure project success," said Carlos Mena, Country Manager Brazil at Soltec. "Customers choose Soltec for the combined cost-effectiveness of high-yield equipment with high-tolerance installation features, along with our proven reliability to meet project criteria of cost, quality, and schedule."
"Our objective is to supply customers with cutting-edge technology at the most competitive price. We focus on innovation, reliability and low installation costs," stated Raúl Morales, CEO of Soltec. "We are very proud to add Solairedirect, subsidiary of ENGIE Group, to our global list of top-tier customers."