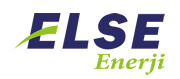 SMA Solar Technology AG (SMA) and ELSE Enerji Ltd. have recently signed a new General Frame Agreement for the supply of 154MW of central and string inverters from SMA for plants to be realized by ELSE Enerji within a year.
The founders of ELSE Enerji Ltd., Mustafa Herdem and Serhat Çay, both present during the signature ceremony, noted "Both companies have been in close cooperation since the very beginning of the PV market in Turkey and have already completed many projects until today." They continued: "In the rapidly growing Turkish PV market, we have chosen to strengthen our cooperation with SMA, based on the reliability, consistency and high quality that SMA ensures worldwide. We feel extremely secure with our decision since SMA's offering also includes a comprehensive service package."
"This new agreement with ELSE Enerji, reinforces SMA's commitment to the growing Turkish PV market," underlined Marko Werner, Executive Vice President Sales EMEA at SMA. "We strongly believe that the Turkish market will continue to show high growth potential."