ReneSola Ltd today announced its unaudited financial results for the first quarter ended March 31, 2016.
First Quarter 2016 Highlights

- Revenue of $260.7 million was in-line with management guidance range of $260-$270 million
- Gross margin increased to 17.1% from 16.0% in Q4 2015 and 10.5% in Q1 2015
- Net Income was $5.7 million, compared with $6.7 million in Q4 2015 and net loss of $18 million in Q1 2015
- Total external module shipments were 350.7MW while module shipments to the Company's downstream projects were 20.1MW;
- Sold 9.7MW of projects in Bulgaria; the sales were booked as disposal of assets and contributed to operating income of $2.5 million;
- The Company now has a solar power project pipeline of 785.3MW at different development stages; and
- The Company connected four utility-scale projects to UK grid during the quarter with total capacity of approximately 20MW
"The quarter played out largely as we had anticipated and was marked by solid growth in the downstream project pipeline, margin improvement, and in-line revenue performance. Despite somewhat negative sentiment in the solar industry during the quarter, we are executing on our strategy to remain a global leader across the solar value chain. We are profitable, with over 700MW of project pipeline in various development stages, and a flourishing business in LED distribution. Our first quarter results demonstrated the continuation of the successful execution of the new strategy unveiled last year," commented Mr. Xianshou Li, ReneSola's Chief Executive Officer.
Li continued, "As we look to the remainder of 2016, we will maintain our commitment to growing profitably, prudently managing our operations and building financial strength. We believe we are in a position to execute well and build a great foundation to increase shareholder value in 2016 and beyond."
First Quarter 2016 Financial Results
Revenue of $260.7 million was down 12.0% q/q and 25.3% y/y and in-line with guidance of $260-$270 million. The revenue decline reflects lower module ASP and lower module shipments to external customers as the Company continues to scale back its OEM business and shift towards downstream project development.
Gross profit of $44.5 million was down 6.2% q/q and up 21.4% y/y. Gross margin increased to 17.1% from 16.0% in Q4 of 2015 and 10.5% in Q1 of 2015. The sequential margin improvement in the quarter was due to wafer margin improvement.
Operating expenses of $32.3 million were 12.4% of revenue, up from 10.3% in Q4 of 2015 and down from 13.2% in Q1 of 2015.
Operating income was $12.2 million, compared to operating income of $16.9 million in Q4 of 2015and operating loss of $9.5 million in Q1 of 2015. Operating margin decreased sequentially to 4.7% from 5.7% in Q4 of 2015.
Non-operating expenses of $6.1 million include net interest expense of $9.1 million and loss on derivative of $0.6 million, offset by foreign exchange gains of $2.9 million.
Net income was $5.7 million, compared to a net income of $6.7 million in Q4 of 2015 and a net loss of $18.0 million in Q1 of 2015. Earnings per ADS were $0.06, compared to $0.07 in Q4 of 2015.
Balance Sheet, Liquidity and Capital Resources
The Company had cash and equivalents (including restricted cash) of $190 million as of March 31, 2016. Total debt was $737 million, largely in-line with the debt balance as of December 31, 2015. Short-term borrowings increased $66.8 million in the quarter due to an increase of working capital loans and factoring arrangements, coupled with the fact that $31 million of the current portion of long-term borrowings were reclassified as short-term borrowings. Total long-term borrowings decreased in the quarter as the long-term loan associated with the Bulgaria projects was transferred to the buyer, and as mentioned above, a portion of the long-term borrowings was reclassified as short-terms borrowings. During the quarter, the Company repurchased all of the remaining convertible notes of $26.1 million.
First Quarter Operating Highlights
Since disclosing its strategic shift to solar power project development at the start of 2015, the Company has focused its efforts on developing, operating and selling high-quality solar power projects. Activity is centered on building a pipeline of distributed generation and utility-scale projects in attractive geographies worldwide.
Project Sales
The Company sold two projects in Bulgaria in the first quarter of 2016, representing a total of 9.7MW of generating capacity. Because these projects were recognized as long-term assets on the balance sheet since the end of 2013, the sale was booked as disposal of assets and the gain on sale was included in operating income. The purchase included cash payment of $5.1 million and the assumption of project debt. The structure of the transaction reflects the Company's continued focus to reduce debt and monetize projects assets.

Operating Assets
After the sale of projects in Bulgaria, the Company currently owns and operates two solar power projects it developed in earlier years. While the Company expects the projects to produce a steady stream of recurring revenue, the Company is holding its operating assets for eventual sale.

Project Pipeline
The company currently has 785.3MW of projects in various stages of development. The geographic distribution of projects is outlined in the table below.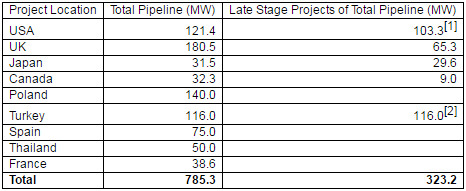 Modules and Wafers
The Company continues to fully utilize its capacity to provide high quality products at lower cost to select customers. The Company considers its competitive advantages to be improving conversion efficiency and supply chain management.
During the first quarter, total external module shipments were 350.7MW, representing a decrease of 6.0% from Q4 2015. Total wafer shipments were 351.0MW, up 29.8% q/q and up 79.9% y/y.
LED
During the first quarter, ReneSola's LED business reached revenue of $6.2 million, up from $4.9 million in Q4 2015, and achieved a gross margin of over 30%.
The energy efficiency market is a large and growing market, and LED lighting is a critical element. A key strategic focus of the Company is to grow its share in the high-growth LED market by utilizing its world-wide distribution channels.
Outlook
For Q2 2016, the Company expects revenue in the range of $280 million to $290 million and gross margin to be approximately 18%.
For full year 2016, the Company continues to expect revenue in the range of $1.0 to $1.2 billion. The revenue outlook reflects continued scale-back of OEM module production from external sales and shift toward downstream solar energy project development to pursue higher profitability.