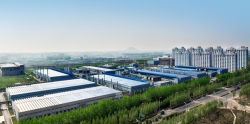 Tongwei Solar is a state high-tech enterprise integrating PV manufacturing, R&D, application, production and sales, which specializes in manufacturing of solar cells and modules. It has acquired 6GW capacity of high-efficiency cells, and two manufacture bases that located in Hefei and Chengdu.
The cell capacity and module capacity in Heifei Base Phase I reach 2.4GW and 350MW respectively, it has top-ranking technology and production indices in PV industry. Anhui Phase I 2.3GW high-effective crystalline silicon cell project is under construction and will be completed in 2018.
Chengdu Base Phase I 1GW project and Phase II 2GW project are completed in 7 months, refreshing the construction period for two times. The production line in Phase II has been updated to fully-automatic unmanned production, and it has taken the lead in digital workshops, intelligent factories and local manufacturing of clean energy in Chengdu. Phase III 3.2GW project also will be completed in 2018.
In November 8, 2017, Hefei and Chengdu base have launched 20GW high-effective crystalline silicon cell project in total.
In the end of 2018, Tongwei Solar will have 12GW capacity of high-effective crystalline silicon cells, and in 2020 the capacity will reach 30GW, sales revenue will be RMB 30 to 50 billion, becoming one of the biggest and the most competitive enterprises.